Hustle & Bustle
It's been a busy week already and it's only Wednesday!

I had a lovely impromptu visit from Meg, a new knitter who needed help with one little simple thing in order to be able to knit this week. She's a Doula, which I found to be very interesting! Since much of her time these next few days will be spent waiting for a baby to come, the knitting will be super handy!

I've been spending time wrapping up bills etc...you know all those things that need to be finished before a long trip away from home...the BORING STUFF of life!

Then today I had to run a few errands and pick up a few things in the market for the office! Trying to maneuver the streets of NYC in a touristy section whilest carrying 2 hat boxes and a large tote bag (plus wearing a hat and coat and big scarf) Ooof! What a job! :-) Although folks seem to be enjoying my city - they certainly aren't aware of others on the sidewalk nor are they nice when you are trying to pass them. (I think it's not New Yorkers that are nasty...I think it may just be the overwhelmed tourists!)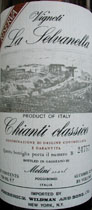 Tonight Dmitri requested to have my pasta sauce for dinner - so out of the freezer it came! A girlfriend of mine may drop in to join us and share in the food and wine!
Got a lovely Chianti (Melini 1999 Vigneti la Selvanella Chianti Classico Riserva) from my FAVORITE wine store ~ Morrell's since I as in the neighborhood! It's 1998 sister was judged to be winner of the flight at a tasting at the Twin Cities Tannin Pig! Looking forward to popping it open tonight!

OK - I have to go into a meeting - back to work I go!