The work week begins...
So much was packed into my weekend- I need a weekend from my weekend!
Friday night ended up being a cooking fest and voila - pot-o-homemade meat sauce is done leaving enough for Friday night (Dmitri and I), Sat night (Dmitri, his Mom, Sister and I) and enough for 5 additional meals (ranging from 2-4 persons) in the freezer. YUM!
By the time all was done, it was time to relax, watch a DVD (Things Change) and get to bed as the BF was beginning to fight a cold.

Saturday we got up early and cleaned, got the couch cover from the laundry, vacuumed etc. Wrapping up JUST as his family arrived. So as the coffee brewed I dashed to the bakery and the fruit market. Got some LOVELY blood oranges, kiwi and strawberries along with 8pc assorted croisants and scones. YUM! I love blood oranges and this is Peak Season everyone!
After eating our fill, we walked to Central Park to enjoy The Gates. I'll add my photos here later.
After an hour and a half walk we changed up and hopped on the subway to see the Matinee of Democracy. The easiest way to put it is if it were a movie - I'd say rent it. The story idea and the acting was quite good (great cast), but the actual written play was - a bit boring to start. So much so that we all nodded in and out of sleep for the 1st half of Act 1 - including ME - and I never do that! When I nodded awake I looked around and most everyone around me was also nodding off! The 2nd half of Act 1 was good, and Act 2 kept you sucked in - but it was a disappointment to have the 1st half of Act 1 be such a bore.
After the show it was back to my house for a belly-stuffing feast of homemade pasta sauce and garlic bread (with fresh garlic of course!)
My dear BF went home when his family left, as he was still feeling lousy, and I cleaned more.

How on EARTH have I collected so much stuff? I'm trying to go thru and organize and clean - which I had been making good progress on until the flood in my apt last fall. Now with my travel schedule this spring I feel like I'm visiting my house to change suitcases between trips - and everything is, once again, a pile. I haven't ever actually unpacked at any apartment I've lived at and when I've had to move it's been a situation where I have 2 days to pack and move or else loose the deal etc. SO things have gotten stuffed into random boxes as they fit rather than in an organized fashion! I'm actually considering hiring a professional organizer. Not because I can't do it myself - but because it's causing me such great stress that i think it would help my well-being! Have any of you ever used one? Hints/ recommendations or one to try?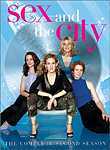 Sunday was more cleaning, catching up on a DVD of Sex and the City (netflix!) and getting a bit of my knitting project done. Since I knew I'd be exhausted from two back-to-back trips, I decided to break my rule and [shudder] ORDER IN FOOD for the Oscars gathering!

My weekend vent:
I dashed across town (A $10 cab ride) to get pizza and salad at the famous Patsy's Pizza. What a damned ordeal.
Firstly let me state - I HIGHLY RECOMMEND the ones located both in Murray Hill and on 10th St & University Place (convenient to our Tues Night SnB!) It is THE BEST PIZZA in NYC and the plain old house salad is AMAZING! But - in thinking about it I decide that I should go the closest one to my apt. So I went to the one between 117th & 118th streets & 1st Avenue, the ORIGINAL one - yes - the middle of nowhere.

I walk in, it's 5:30pm on Sunday, fairly dark and mostly empty.
Waitress: "How many?"
Me: "One, I need to place an order to go."
Waitress: "Two doors down."
I leave and walk two doors down and enter -- this door leads me into the kitchen.
Kitchen Staff (yelling): "You shouldn't be in here, what do you want?"
Me: "I need to place an order to go."
Kitchen Staff: "Two doors down."

I walk out and go two MORE doors down to find a high wall with a brick oven and two people working plus the angry kitchen staffer making sure I came in the right place, shaking her head at me.
Me: "Can I see a menu please?"
Pizza Guy: "We don't have any, you have to go to the restaurant."
Me: "They sent me here."
Pizza Guy: "I can't help you Lady." Turns his back.
Me: "So I just came 27 blocks to get this specific pizza in a city filled with Pizzarias and you can't help me?"
He points to the left meaning - go to the restaurant.
I walk back to the restaurant and am greeted by the non-smiling face of the original waitress.
Waitress: "What?"
Me: "They don't have a menu there and sent me here to see the menu."
Waitress: " The kitchen is closed now, all we have is Pizza and Salad."
Me: "That's all I am looking for."
Hands me a menu - which upon opening is completely different that the other two locations downtown.
Me: "You don't have the same menu as the other locations?"
Waitress: "No, they pay us to use the name, but that's all."
Me: "We, they have multiple sizes available for everything - how big are your pizzas?"
Waitress: "Thin crusted, 8 slices - I'd get one for every 2 people."
Um - so - no size? I look around and see these huge pies -- she's smokin' crack, 1 pie for every 2 people...
Reluctantly she takes my order, which I'm SUPPOSED to give at the take out window TWO DOORS DOWN...I order 2 pies and 2 salads and go to the deli next door for drinks.
I decide to go back to the to go window to get the pies because I think she'll send me there anyway.
So, I sit down in the only chair, just behind the soda machine and begin to knit as I wait for my food.
Footsteps into the pizza oven area.
Waitress: "Has that red-headed chick come back? Ain't SHE a piece of work?"
Pizza Guy: "She's alright to me."
Waitress: "Hmph - she's F*ck#n Crazy. I hate crazies."
Pizza Guy: "She's not crazy."
Waitress: "Fine, I'll send all the crazies to you."
I stand up and JUST miss her as she leaves the pizza area. The Pizza Guy sees me there and turns red.
Me: "Tell your waitress that next time she goes to bad-mouth a customer, make sure that the customer isn't sitting in your chair waiting. This will definitely be that last time I order from this location."
Pizza Guy gives me an apologetic look as I pay. I had to walk about 8 blocks to find a cab as there wasn't even traffic on the wide streets on Sunday at that hour.
It's too bad - I was going to suggest that we use them to cater a big corporate event that we may be having in NYC. I plan to write to the manager a letter - I have NO PATIENCE for rudeness in the restaurant biz, I was a waitress and worked in a kitchen for many years and my ass would've been SO FIRED if I had ever treated a customer like that.
I'll gladly continue to visit the other two locations - especially since they are only connected by NAME -- too bad the original makes the other two look so bad. It seems that all of the reviews online are wrong when they list them all as one big happy family.


Pals came over to watch the Oscars and inhale the food (Salad was good but pizza at other locations is better) and wine. Ahhhhhhhhhh. I knit and Popcorn aplenty (movie theater style and Kettle corn) was consumed by all! Love my WhirleyPop popper! Sandi won the prize - a lovely bottle of Merlot - for guessing the most winners right - she guessed 13 correctly!
Back to work I go! Happy Monday All!

Hey - whatcha think of the new colors on Dmitri's Blog? It used to be just black...and I told him it didn't make me want to stay and read...so - whatcha think? Drop him a comment and let him know! :-) Cheers!